Business hype around Iran
Igor Nikolayev,
Especially for Iran.ru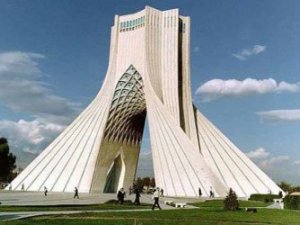 31 january 2014
In hotels Tehran today difficult to find empty seats, rooms are booked by European businessmen for several months ahead. Those who are with the hotel rooms are not lucky - scheduling appointments with their future Iranian partners in Dubai. And even more, inviting Iranian officials, representatives of big business circles directly to himself, of course, with the last payment of all expenses. Degree of excitement around the upcoming "discovery" of the Iranian market for foreign businesses (after several years of crippling sanctions regime) is growing every day.
Number of foreign representatives to schedule a visit to Iran in the coming months, more than the annual number of delegations in the past eight years, and there is no reason to believe that this number will decrease. Over a hundred representatives of French companies recently arrive by plane in Tehran for "assessments of the possible investments" and preliminary negotiations with the official Iranian representatives. And in Amsterdam for Dutch entrepreneurs urgently courses are held on the specifics of doing business in Iran, an introductory lecture in which personally read the Ambassador of the Netherlands in the Islamic Republic Jos Duma.
Speaking at an economic forum in Davos, Hassan Rouhani proposed to establish a new international body which is competent to global energy security. His words that Tehran is ready on the basis of reciprocity provide the new entity reserved volumes of oil and gas were seen gathered not simply as a declaration, but as Iran's readiness to close cooperation with international business.
However, he fully justified his nickname - "Sheikh diplomacy" - skillfully playing on the existing competition between oil multinationals, prompting them to active steps to establish contacts with the Iranian side. The fact that almost immediately after his speech, Rouhani met with Prime Minister of the Netherlands Mark Rutte, closely associated with the Anglo-Dutch Shell. Of course, this caused "jealousy" others, and two days later the CEO of France's Total SAKristof Margerie said his company was interested in resuming its presence in Iran. Moreover, the new conditions, which offers investors the Iranian side, are, according to Margerie, "more than attractive."
Against this background of activity TNCs Ambassadors of Austria, Japan, Thailand, Kuwait and the First Secretary of the Embassy of Malaysia with the director of Free Economic Zone "Kish", which diplomats said the readiness of their countries to participate in investment projects on the island - an official confirmation that the hype surrounding the Iranian market - it's not "propaganda Tehran", and quite up process, developing a stunning pace.
European economy and the Iranian "lifeline"
European companies in the process - in front of everyone. Oil - oil, but also other sectors of the economy is not on the side stand.Austrian Airlines announced last week that the schedule resumes "five flights a week" in Tehran, and the German Lufthansa intends to increase the number of daily flights towards Iran. Similarly arrives and Turkish Turkish Airlines, which has appealed to the Iranian government for permission to increase the number of flights not only from Turkey but also from Europe.
Serious plans against Iran and the European car industry. Group of companies "Peugeot" and "Renault" made an official statement that has started to prepare the resumption of activities in the Islamic Republic and expanding contacts with Iran-Khodro, Iran's largest automaker. If we recall that in 2011, "Peugeot" in Iran sold 455,000 vehicles produced under license, and sales of "Reno" then totaled 100,000 vehicles, it becomes obvious extreme interest the French car industry to return to the Iranian market. Especially because this market is waiting for: built car factories in Iran are not under load, and about one fifth of one hundred thousand jobs that provide the Iranian automotive industry, were laid as a result of "crippling sanctions."
European business activity is quite understandable. In the context of which has already become a permanent economic crisis, loss of a huge Iranian market, with a capacity for Europe is estimated between 40 to 60 billion dollars, what hurts the budgets of the state and corporations. In Europe remembers that by the mid-2000s, French and German investments in Iran exceeded five billion dollars, and deductions from the Islamic Republic only gave licenses to two billion dollars annually.
Iran has long, successful and very profitable work and French Renault, Total, BNP, Paribas, Societe Generale, and German industrial giant Siemens, and Italian Techimont and Anni, and the Austrian company OMV (leading oil and gas company in Central Europe) and many others. A report of the EU, published in the early 2000s, openly stated:
"In the EU there are political and economic reasons to develop closer relations with Iran ... In the future it may become a significant regional economic partner, with tangible opportunities for trade and investment."
Economic expectations of the European business community did not materialize, under U.S. pressure, it was forced to curtail its presence in the Iranian market. Today, in place of Western companies are gradually coming Chinese industrialists that European corporations warm feelings for the protracted US-Iranian confrontation (which they, by virtue of "solidarity of people of the West", are forced to be on the side of the U.S.) does not add.
"Duality" Washington
Interest of the European economy in the Iranian market for Washington is obvious. If not the busiest for economic relations in 2011 imports from the EU official in Iran was 16.5 billion euros in 2012 - 5.6 billion, in the first half of 2013 - just 395 million euros. And this reduction process took place against that during the same period, the growth of imports from China to Iran amounted to 10.6% and from Turkey - 41.9%.
According to official statistics of the Customs Administration of Iran for the Iranian year 1391 (20.03.2012 g - 20.03.2013), the aggregate turnover of the country (excluding exports of crude oil, kerosene, fuel oil and natural gas) in value terms amounted to about $ 94, 6 billion, and Europe's share of this money circulation declined steadily. Of course, Washington could not cover the losses of its European partners from confrontation with Tehran. And if at first still tripped the myth of the "Iranian nuclear threat", "bloody regime of the ayatollahs," "totalitarianism and violation of human rights", in the last year, these arguments on the European business elite has almost no effect.
Even before the "crippling sanctions regime" large Swiss, French, British and Italian corporations and banks directly stated their governments exerted on them by the United States "unprecedented pressure" to get them to stop business with Iran. Government either kept silent or referred to the supreme interests. European businesses responded to this expansion schemes illegal trade with Iran, activating "black knights" activities which Washington had not been able to stop for at least two reasons. First, the "crackdown" would lead to a sharp increase in dissatisfaction with the actions on the part of the U.S. strategic partners, which are constantly pressured the local business elite. And secondly, the U.S. imposing sanctions simply do not fully figured out the consequences - Iran has been so integrated into international economic relations that implement full economic blockade of Iran, as it turned out impossible.
Washington, of course, does not feel any enthusiasm for the same activity that Europe returns to the Iranian market. But the problem for the Obama administration is that while the ideologized U.S. foreign policy, it is this policy, unable to resist the economic realities. Iranian market - it really is the lifeline for the European economy and help it Washington can not do anything.
It is the realization of this fact "inspiring" Obama in a tough confrontation new package of sanctions that the Israeli lobby in its beak was able to bring in Congress and is now pushing for a vote. Addressing a message to Congress, the U.S. President said that uses veto if Congress adopt new sanctions against Iran in the negotiations on the nuclear issue:
"If Congress adopts a law on new sanctions, I use the veto. For the sake of our national security, we must give diplomacy a chance. If Iranian leaders do not use this opportunity, then I will call first for tougher sanctions and will be ready to use all the possibilities that Iran does not develop nuclear weapons. "
In fact, the question about a new round of sanctions is not removed, the current situation - no more than a temporary "thaw" that Washington still allows. It allows European businesses to reinvigorate its presence in the Iranian market.
Russian business with strangers on holiday
But what Washington does not intend to allow strongly - so it's presence in the Iranian market for Russian companies. However, here between the U.S. and the EU there is no contradiction. "Sharp elbows" Western rivals Russia has already felt the negotiations on the supply of agricultural products, including grain, to Iran, as recently told Economic Development Minister Alexei Ulyukayev:
"Negotiations at the working level. Of course, we would like to use our potential, including food, and to enter this market.Unfortunately, sometimes our efforts to build a constructive relationship meet inadequate understanding on the part of our partners, including the U.S.. "
Speak of "regret," here is totally inappropriate. History with a fine of $ 9.4 million, which the Office of Foreign Assets Control (OFAC) of the U.S. Treasury "has issued" for violation of the Bank of Moscow a few years ago of the sanctions imposed by the U.S. authorities against Iran and has taken with him - quite a good example not only double standards - that can European business is not permitted to Russia but frank allusion to the fact that Moscow should forget about plans for economic cooperation with Tehran that otherwise "punish" it will be tough and uncompromising.
Russian business community today - "the tail" queue to the Iranian market. But it would be unfair to attribute all solely to curbing the West. This opposition was, is and will be, and because it is a manifestation of economic competition, and part of the new "Great Game" against Russia. In addition to the confrontation of the West in the way of domestic business in Iran has at least two circumstances, to overcome that in Moscow so far no one is going.
At a meeting with Russian experts on January 16 this year, Iranian Foreign Minister Javad Zarif to the question of what, in his opinion, is today a major obstacle to the expansion of Iranian-Russian cooperation, said a few unexpected, but quite accurate - bureaucratic obstacles on both parties. Iranian bureaucracy leave Iranians, but against our will not be superfluous to note that the structures responsible for the economic component of Russian-Iranian cooperation, strangely sluggish and passive.
Already in December last year, it was obvious that the international business launched in Geneva uses normalization, that is, "in full". There was a favorable situation for Russia compensated serious losses from reduced trade with the Islamic Republic. And it will not be amiss here to remind once again that only in 2012 the trade turnover between Russia and Iran declined by 38% (compared with 2011), and the decline of Russian exports amounted to 44.2%. And - this is the average figure, as the volume of exports, for example, the Russian steel products in 2012 decreased by more than 66.1%. If in 2011, Iran has been put steel in excess of $ 2.54 billion, in 2012 this figure amounted to $ 863.2 million. But, as always, no one in the economic bloc of the government to think strategically was unable to. Moreover, today generally know nothing about whether the government is going to take something to restore the volume of trade. Official sources store about this mysterious silence.
Also, nothing is known about whether Russian banks are going to continue to participate in supporting sanctions against Iran in the financial sector. Paradox - Russia's leadership is committed to carrying out an independent foreign policy, and that unilateral sanctions are illegal, stated at the highest level, the President personally. But for management of Sberbank and VTB - the president is not a decree, close ties with the Western banking elite financial institutions and good relations with the anti-Iranian lobby in the country more expensive for them, but because the Russian financiers cowardly silent when the U.S. threatens them with a finger over the transaction in Iran.
Well, the second obstacle - is itself the Russian business. As if it may sound unpatriotic, but our entrepreneurs are not able to work in a tough international competition. And here they support the state of little help. Western companies are now desperately dumping, are serious concessions Iranian representatives packages provide technological and engineering bonuses to transactions (in which the Islamic republic is extremely interested). The difference with the domestic business here that they plan their activities for decades to come, "the long haul." But Russian companies such strategically, over the next five years (at best), do not know how to think. And under bonuses understand solely own financial reward.
**********
Cooperation between the National Iranian Oil Company (NIOC) and Russian "Lukoil" was started signing a contract for exploration and development of oil fields "Anaran" in western Iran. Then "Lukoil", together with NIOC and Norwegian "StatoilHydro" discovered large oil deposits "Shangule" and "Azer". U.S. sanctions against companies doing business in Iran, the Russians put before a choice - either to work in the United States or to continue their business in Iran. "Lukoil" chose the former. Today "Lukoil" officially declares its readiness to return to Iran, its representatives stressed that the company will resume its activities in Iran as soon as possible, as the lifting of sanctions. Again in front of us - the fear of thoughtful and calibrated risk again - looking back on the mood of the West.With this approach, neither of which the fight for a share of the Iranian market, however. At best, we get a very modest share. At worst - the economic hype and related profit pass by Russia and its business.
Search
Subscription

Headquarters of «Iran.ru»
info@iran.ru
Page load: 0.00504 sec